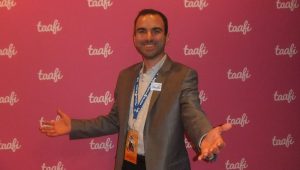 My 3D animated music video, "The Simple Carnival – Go Away I Like You Too Much" has been making the rounds on the film festival circuit. In February, I attended the Toronto Animation Arts Festival International (TAAFI) in Toronto, Canada where I got to see the screening of my video…as well as eighty-four other shorts and four features in three days! It was an excessive smorgasbord of all kinds of animation, but I had a great time.
Plus, when I walked down the street from the theater, I got to see where Bob and Doug McKenzie parked their van in Strange Brew!

Here are some other festivals which have screened — or who will be screening — "The Simple Carnival – Go Away I Like You Too Much":
March 16, 2019: Athens Animfest, Athens, Greece
May 3-5, 2019: Stereoscopic Society Annual Convention, Southampton, UK
May 10-12 2019: 26th Australian National Stereo Photography Convention, Maldon, Victoria (Australia)
May 26, 2019: Silver Screen International Film Festival, Tampa, FL
June 4-6 2019: New Media Film Festival, Los Angeles, CA
June 13-16, 2019: Florida Animation Festival, Tallahassee, FL
August 3, 2019: National Stereoscopic Association Convention (3D-Con), Akron, OH
A big thank you to all of these festivals! I won't be able to attend all of these events, but I genuinely appreciate having my work included in them.